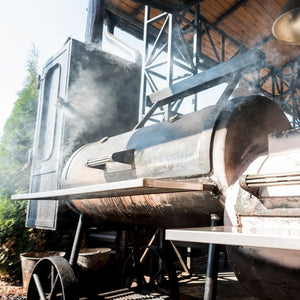 Ben started cooking over charcoal and wood at an early age in NW Ohio where his dad taught him everything to know. Hot and fast or low and slow, Ben seemed right at home around a BBQ pit. BBQ quickly became a passion of Ben's and the foundation for Trailer 51 Barbecue Co. was laid.
Trailer 51 was founded in 2017 in Palm Harbor, FL. out of a passion to create great BBQ, BBQ sauces, rubs and hot sauces. After perfecting his signature BBQ style at home for friends and family, and being told by people around the United States that, "that was the best BBQ I have ever had", Ben decided to form Trailer 51.
Ben and, his wife, Tracy enjoy camping and travel, when weather permits in Florida. So, living out of a trailer; traveling from town to town, selling BBQ sauces and competing on the KCBS and FBA circuit is definitely in the future.